Specialized Form & Thread Grinding
( Click image to enlarge )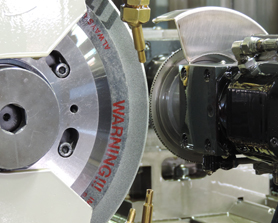 With thread grinding capabilities that set the industry standard, at B & R Grinding, Inc. we create specialized forms and complex thread profiles for the most demanding applications. We have a strong background with the engineering and mathematical concepts that apply to thread grinding, as well as some of the most intelligent and sophisticated equipment on the market today. Our talented workforce of technical specialists knows how to use our equipment at its maximum potential to create a variety of complicated internal and external thread configurations.
With our large library of square and round diamond roll rotary dressers, we have the ability to produce forms that are difficult to achieve and challenging to machine. In addition to straight, multi-angle, and off-set grooves and threads, we have the ingenuity to transition multiple angular forms into radius grooves and threads. Some of the more complicated operations include specialized blunt starts, where we remove a partial thread before we begin thread grinding, as well as creating intricately formed thread lead-ins and lead-outs for specialty applications. We also create geometries that include multiple tapers and leads in a single thread profile.
Our technicians control all aspects of the thread grinding operation, including tool speed, wheel speed, grind direction, and dressing cycles to ensure precise material removal. Their expansive knowledge of metal characteristics allows them to make clean cuts in soft or heat treated materials while achieving micron range profile accuracies. Precision metrology equipment in the hands of our trained inspectors ensures that finished threads conform to your specifications in every respect.
If your project calls for a unique, out-of-the-ordinary thread profile, consult with a specialist who will get it right the first time. Contact us today to discuss your application.