Form Grinding/Contour OD Grinding
( Click image to enlarge )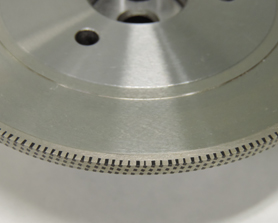 At B & R Grinding, Inc., we've provided an array of precision form grinding and contour OD grinding to multiple industries throughout the United States since 1976. Our highly trained team offers precision grinding services from .050 inches to 13 inches at a time. Utilizing the latest CNC technologies, our facility houses 5 Drake CNC thread grinders, 3 CNC O.D. grinders, and a Mazak Quick Turn lathe.
Our diamond roll dressers are capable of producing some of the hardest forms possible. They handle both square and round radii as low as .002" on the corners, helping us achieve the smallest and most precise forms possible. In order to grind hard to achieve forms, we use a "smart form" technology that allows us to compensate for wheel wash out at the beginning and end of any form. Using smart dressing in our OD grinders, we can produce multiple forms and steps simultaneously in order to reduce cycle time and cost. We also offer point to point CNC dressing and can grind adjacent angles to any radius. Using in-house CMM and gauging, we ensure angles, diameters, and grooves are ground to very tight tolerances.
From medical to military, we've worked with a variety of materials including titanium, beryllium, and plastics as well as various metals with hardness properties over 62 RC. Since 1976, our team has provided an array of precision grinding services, manufacturing, inspection, and repair. Backed by extensive quality control procedures and a hands-on approach to machining, we strive to offer the very best service for our customers. To learn more about our form grinding and contour OD grinding, please Contact us directly.