Lead Screw Grinding
( Click image to enlarge )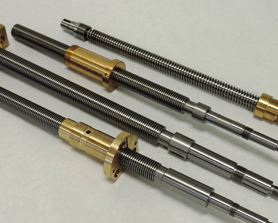 For nearly 40 years, B & R Grinding, Inc. has provided innovative lead screw grinding services for a variety of industries. Backed by the latest CNC technologies on the market, we specialize in grinding lead screws from any length up to 44", with production volumes between 1-2000 pieces. We ensure an excellent run on values by setting up our machines with steady rest, thereby maximizing production. Our highly trained personnel are well versed in multi-form grinding, allowing us to work with an array of shapes and sizes. We grind ball screws featuring any offset, ACME forms, and screw forms with trapezoidal, standard, circular or square geometries. We can also grind crest radii or chamfers on any type of lead screw, including military grade units.
We have the ability to grind titanium, beryllium, and a variety of plastic materials. We can also handle additional material that possesses hardening properties above and beyond 62 RC. Each machine is precisely temperature controlled in order to prevent thermal expansion on parts. Our team is capable of building or reverse engineering any lead screw or mating nut with extremely close tolerances and precise fits.
Since 1976, we have provided high quality CNC precision grinding services for the military, medical, and automotive fields. We're equipped with a number of advanced thread and O.D. grinders, and other CNC turning capabilities. As a leading industrial company in the United States, we strive to meet or exceed quality control standards. We practice a hands-on attitude and customer-centric philosophy, ensuring reputable services worldwide. To learn more about our lead screw grinding services, please Contact us directly.